At Nishith Desai Associates we are inspired by innovation and the will to change the world. Our firm models itself along the lines of 'nano' in size with braincount taking precedence. Our goal is to stay small, think big, do big. At the core, we are a firm of specialists and experts committed to extraordinary advice and service to our clients.
Our selection process goes beyond simply looking for academically accomplished candidates. At Nishith Desai Associates, we bring together a varied mix of high-achieving, intellectually gifted employees from diverse backgrounds to create an exceptional community. We care about what candidates have accomplished in and out of the classroom. Our process, therefore, is highly selective.
We now enhance and broaden our scope and opportunity for engagement by offering you more routes to associate with us. So, besides full time employment, you may also choose to work with us on different terms including in a virtual, part-time, flexible, contributing, collaborative, mentoring, volunteering capacity, among others.
If these thoughts excite you, this form will help you associate with us!
Our multi-layered Engagement model encompasses the range of options through which you may join our vibrant and committed organization and ecosystem. Depending on your candidacy, objective, available opportunity, and preferred means of working, you may apply to be a member of the following categories: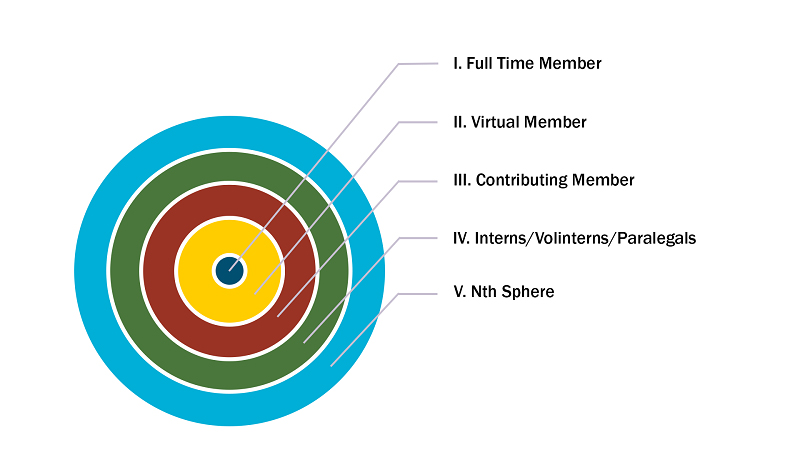 i. Full Time Member:
You would be a full time employee with the firm and work from any of its offices, as per firm guidelines, as required.
ii. Virtual Member:
You would be a full time or part time employee exclusively working with the firm, but working 'virtually' from home or from locations where NDA does not have an office.
iii. Contributing Member:
You may associate with NDA on specific projects, assignments, or in the capacity of a mentor, particularly in the areas of research, social and regulatory impact, and academics. (Academicians and experts can find an appropriate platform to collaborate with NDA through this arrangement).
iv. Intern/Volintern/Paralegal:
As a student, professional, or paralegal, you have scope for an enriching and intellectually fulfilling internship experience at NDA for a specific period. Interns with voluntary zeal may even engage virtually through the 'Volintern' program. Our internship program runs through the year and is customized as required.
v. Nth Sphere:
NDA cherishes its large spectrum of well-wishers and enthusiasts who have always supported and contributed to the firm's success. Our alumni, channel partners, collaborators, law schools, think tanks, and other institutions as well as individuals may stay connected with us through our Nth sphere.
As you prepare your application, help us to appreciate your talents, academic accomplishments and personal achievements. We shall ask for your transcript and work experience, and will want to know more than just the statistics in your file. Tell us your story. Show us what's special about you. Share how you would contribute to the NDA family!
Job Openings